Christmas at the Castle in 2023

| Last Updated: Thursday, 2 November 2023

Last Updated: Thursday, 2 November 2023
Celebrate the festive season at Clontarf Castle this Christmas. See off the last few days of 2023 in this loving four star hotel. We love to celebrate the magic moments of the most wonderful time of the year. 
The festive cheer spreads up the lantern lit drive, overlooked by the twinkling lights adorning the Castle at Christmas. Walk into the lobby and feel the enchanting atmosphere lit up by the warmth of the fire. Laughter and lively conversation echo through the room… It's Christmas, as it should be.
Guests can indulge in a delightful festive itinerary, featuring exquisite cuisine and captivating entertainment. Our dedicated team ensures that every guest's stay is truly extraordinary.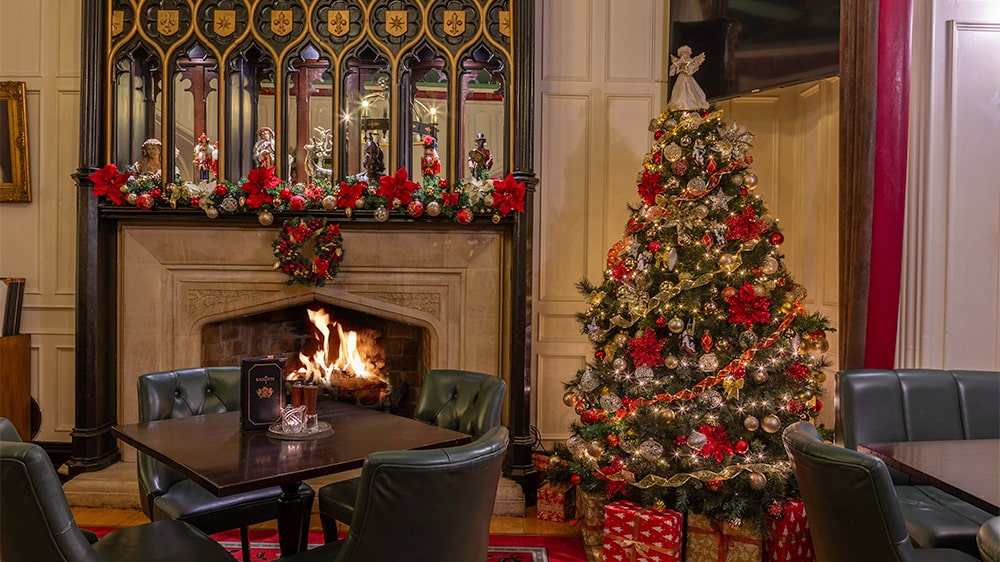 Christmas Eve in the Castle
Take in the scenic views of the promenade on a crisp winter walk and spend quality time with family or friends in the village. Stop into one of our favourite pubs to soak into one of the cosy corners and hear the roaring fire before making your way back to our coastal hotel.
On Christmas Eve, guests are invited to enjoy a glass of citrus spiced mulled wine in the atrium lounge. Sit back and relax to the melody of your favourite Christmas Songs on a cheery winter evening.

Join us for a sumptuous 4-course dinner in the majestic Great Hall. This truly elegant room has luxurious cream and purple notes, encapsulated with lofty ceilings holding crystal chandeliers. The history of this Castle is celebrated through a dramatic frieze along the wall, Christmas at the Castle is a tradition we love to keep.

Those with overnight accommodation on our two-night package retire to their room, for a peaceful nights rest or to the residents bar for fireside cocktails or a glass of bubbles before the magical day.
Christmas Day Feasting
Wake up to the magic of Christmas with a hearty breakfast in the lounge accompanied by festive bubbles as our junior guests sip on hot chocolate in lavish surroundings. After an Irish breakfast, many people exchange gifts while our chefs prepare a wide variety of dishes for our festive dining spread. 
Attend the traditional Christmas Day buffet dinner in the regal great hall. Our 5-course dinner is a family friendly affair, and we welcome guests and non residence to join us. Choose from a bottle of wine to a glass of bubbles to accompany your festive dinner in the Great Hall.  
Our five course fine dining dinner is overseen by our Head Chef Paul Devoy. Our onsite restaurant Fahrenheit has been awarded 2 AA rosettes and it is no wonder when you try out the gourmet dining options and experience the exceptional service on offer. 
After you enjoy your meal, we invite you to our festive fayre. Unwind in the Knights Bar and share fireside stories,  festive bubbles and enjoy a music performance by our band. Take time to reflect on a wonderful day that you have enjoyed at Clontarf Castle
St. Stephen's Day with Family & Friends 
Wake up in our luxurious guest rooms and stroll to a leisurely breakfast filled with cheer. The crisp winter morning outside offers a beautiful view of Dublin Bay into the city. Spend your final moments of your magical stay in our hotel before checking out and exploring the last of the city.

St. Stephen's day is a very social day in Irish tradition, with many bars filled with friends, family and visitors. The bars of Dublin city pour festive cheer with every beer and it is something that you must experience on your holiday in Ireland.
Festive season celebrations
So it is true to say, Clontarf Castle Hotel is the most wonderful place to celebrate Christmas. From our overnight accommodation packages, to our five course fine dining dinner on the 25th, our Castle hotel is a luxurious guest destination. 
Sit and listen to fireside stories or music performances throughout the whole month, dine in one of our onsite restaurants and wake up to a brilliant breakfast in our 4-star hotel. 
Do not hesitate to contact our reservation team to kick off the holiday season in style this Christmas. Discover our excellent room rates for rooms over the festive period.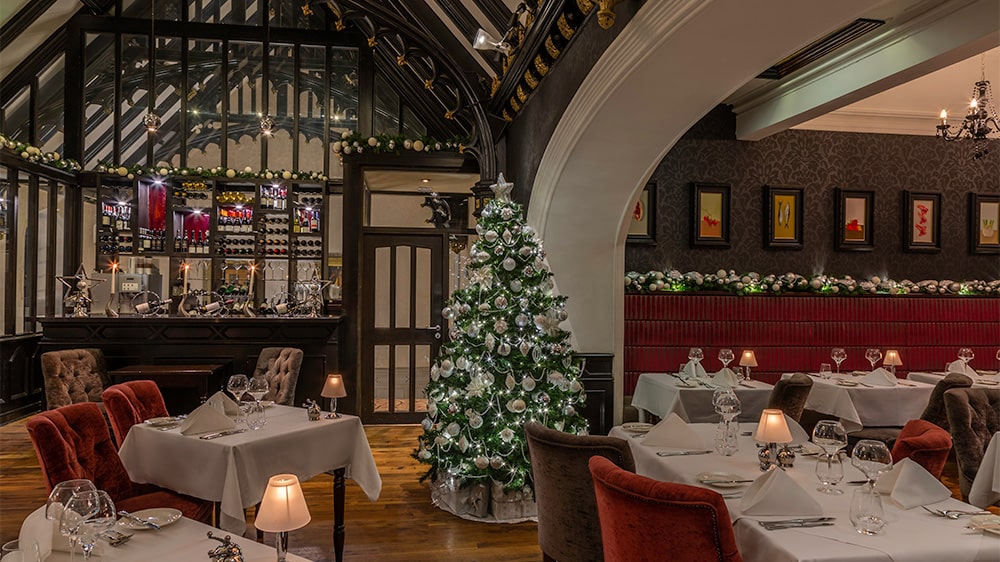 Frequently Asked Questions about Christmas in the Castle
Is Dublin good at Christmas?

Yes, Dublin has lots to do at Christmas, with the annual Christmas swim taking place every 25th of December. You will always feel that the city centre has a festive glow from the streets illuminated with Christmas Figures and music from street performers.

How many days do you need in Clontarf Castle?
You would never leave if you could, Clontarf Castle is the perfect location for a Christmas Hotel Break. You will never run out of things to do in Clontarf or Dublin on your holiday here.
Is December a good time to visit Dublin?

Visiting Dublin, and Ireland, is an unpredictable time for weather. It may snow in April and the sun will shine in December. However, one thing that is predictable is the fun and games that you will encounter when you visit Dublin.

Luke McLeod
Luke is a seasoned travel writer, with years of experience around Europe, America and at home in Dublin.

If it's not discovering some of Clontarf's finest coffee shops, Luke can be found in the city centre tracing over historic steps of Irish history or chatting with some of his favourite artisan producers in the town.

Wether it's a pub for a quiet pint, a day trip from the capital or a dainty market to spend your Saturday morning, Luke's travel tips will ensure your stay at Clontarf Castle Hotel is a unique experience.