Great places to go near Clontarf in 2023

| Last Updated: Monday, 26 June 2023

Last Updated: Monday, 26 June 2023
Clontarf is a village steeped in history. Our story in Clontarf Castle is over 850 years old, dating back to 1172. As you can imagine, there has been some incredible stories that have walked through the doors. Clontarf is a quaint seaside village with a unique geography, connected to Bull Island.
In Clontarf, there is never a moment where you say what should I do out of lack of choice, rather than there is so much to choose from. With tonnes of cafes, stores and bars to choose from, there is also a lot of walks, parks, strands and historic areas.
Things to do in Clontarf (and nearby)
Clontarf Promenade
Taking a walk along the Clontarf coastline and breathing the sea air, nothing says holidays quite like that first hour exploring the area around your hotel. The Clontarf Promenade stretches from Fairview to the Bull Wall at Dollymount on Dublin city's Northside.

The promenade has beautiful views across Dublin Bay, silhouettes of the Wicklow mountains can be seen from the reclaimed sea wall down to Dublin Port. The pathway is ideal for a summer stroll or if you're brave enough to take a run on this 3km stretch.

Along the promenade you will see the outdoor gym, with many different machines all through out the walk. These machines are simple to use and are body resistance machines. The Clontarf Promenade also has a dedicated cycle track that can be used.

In the distance as you look out, you may see a Dublin Bay Cruise. Going from Howth Head to Dun Laoghaire. The 75 minute Dublin Bay Cruise links with Dublin's commuter train at both harbours and takes you across beautiful Dublin Bay.

Along the seafront, you will encounter eight shelters. These iconic lime green shelters are actually now protected structures. Standing since before the 1960's, the distinctive curved units are part of the Architectural heritage of Clontarf. Although, in 2022, it was said that two of the shelters may become a tearoom or a kiosk!

The Promenade is the main action area for the Clontarf Half Marathon which happens in July and in November each year.
Bull Island
Bull Island, is a small low lying island located in Dublin Bay. The Bull Island Nature Reserve is a haven for those interested in birdwatching and wildlife. The building of North Wall allowed for the creating of Bull Island some 200 years ago. The north wall was created for the Dublin City Port.

The island is connected to Clontarf through a wooden bridge. Cars can go on the island, but parking is limited. One of the popular reasons for visiting the island is to get to the Dollymount Beach. 
Dollymount Strand
Dollymount beach, Dollyer, the Strand… this place owes its name to one of the Castle's owners. Dorothy "Dolly" Vernon and her family lived in Clontarf Castle for over 300 years. The Vernon family left our hotel in 1933 for the last time. 

The strand is located less than 10km from Dublin City Centre, placed on the coast of Bull Island. Once upon a time, Dollyer was a place for many Dubliners to learn how to drive, although now it is rare to see any cars on the beach. 

Nevertheless, the beach is still as busy as ever with walkers and joggers. Often you will see them joined by their dogs. If you do bring your pooch to the beach, please remember that they must be kept on leash. 

If a jog along the stand doesn't fill your adrenaline needs you may be lucky to see some kitesurfing along the seafront if you visit on a windy day. 
St Anne's Park and Rose Gardens
Before the Guinness family (Yes, that Guinness family) purchased the land that would become St. Anne's Park, it was owned by the Vernon family who lived in the Castle. In 1835, the park was purchased by the Guinness Family who then commissioned many of the buildings we see today.
The Red Stables Market
Saturday is one of the better days to visit the park. The Farmers Market takes place each Saturday Morning from 10am and has a wonderful combination of food, flowers, crafts and more. Each week you can find a new stall tucked in beside some of your favourites. 
Olive's Room is an exhibition space and cafe found inside the Red Stables building. The stables were once a home to the artist in residence scheme. 
Rose Garden
A public amenity since 1975, the rose garden has been a love for the people of Clontarf. Awarded in 1980 by Bord Fáilte, the Civic award recognises organisations who have made a real difference to the community. The award shows the impact the Rose Garden has had since 1975. 
The annual rose festival is held here each July, becoming an unmissable event for gardeners and families. The Rose Festival 2023 had lots of entertainment featuring the Big Dig, Axe Throwing, Climbing walls and Live Music. If you are staying in the Clontarf Castle Hotel in July, be sure to check out this festival. 
Walled Garden
The old kitchen garden was added to the estate in the late 1920's. Nowadays, the Walled Garden is a 12 acre nursery for plants. Currently you can find plants, shrubs, trees, herbs and flowers in the nursery. 
Follies
A folly is one of the most beautiful ornaments that a park can display. Constructed entirely for decoration, the park has 10 follies remaining of the original 12. Throughout the park you may find a Well, Temples, Bridges and even a cave. 
Fauna
With such a diverse flora, the fauna on display at St Anne's Park is no different. During the year, you can find rabbits, foxes, hedgehogs, bats, birds and variety of bees. 
Sporting Facilities
On the Howth Road side of the park, you will find the majority of the sports fields. With tennis, golf, GAA, rugby, soccer but to name a few of the activities on offer in the park. 
While many will disagree, one of my favourite "sport facilities" is the remote control car track. The fast paced RC racing is great fun for kids and adults alike. 
Clontarf Golf Club
During your stay in one of the best Dublin Castle Hotels, you can enjoy a round of golf in a club only minutes away. Clontarf Golf Club is a par 71 parkland course in the heart of our village. 
The course has been in place since 1921, developed by Harry Colt at the Donnycarney House. Apart from changing hazards, the course lay-out remains much the same from the original development over 100 years ago. The history of this course makes it an excellent choice to play in the list of North City courses. 
Check prices before you play on their website, as the seasonality affects the green fees on offer. 
 
Howth
A day trip to Howth is a great way to fill a week's vacation in Clontarf. With regular darts available from Killester Dart Station and Clontarf Road Dart Station taking you to Howth in minutes. Offering a lot of similarities to Clontarf, including a castle, many would ask is it worth going to Howth on my holiday?
Howth head has a unique cliff walk with two routes to choose from. The Green and Blue route can be intertwined on one walk, or revisit to have two unique trips on this cliff walk. In fact, Howth has plenty of walks to choose from, taking the street down to the harbour, or an off street path to the hidden beaches that are on offer. 
A combination of food, bars and cafes in the centre of town makes a trip to the head a certainty on any holiday. 
Stay at one of Ireland's favourite Castle Hotels
CTA Subtitle
Stay in one of Ireland's favourite Castle Hotels and enjoy a relaxing break to the capital. Discover Dublin at your own pace, roam around the Clontarf neighbourhood, finding your favourite things to do. 
Places to eat in Clontarf
In Clontarf, there are ample dining options. Varying form fine dining experience to casual eateries, there are a combination of food options available in this village.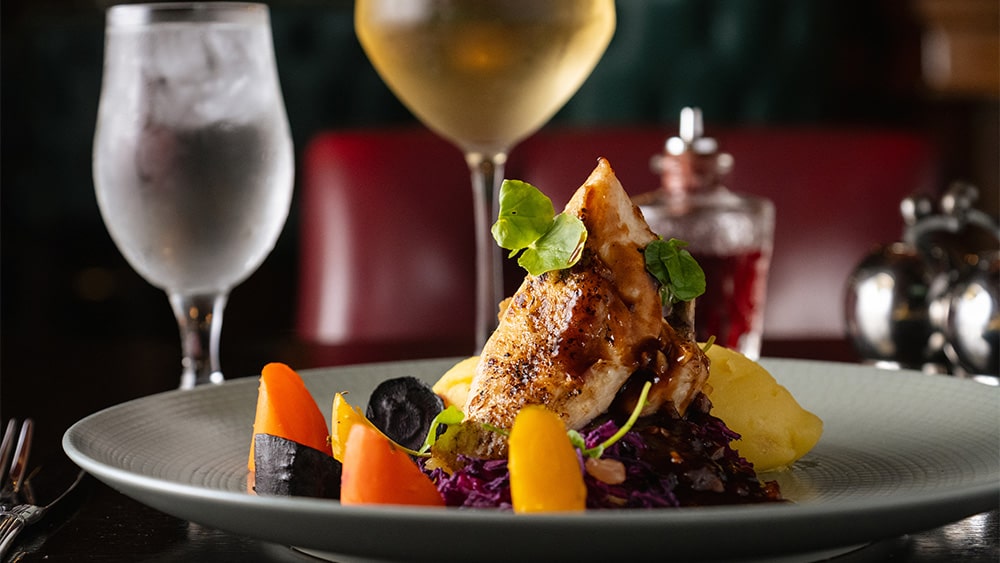 Fahrenheit
Fahrenheit is a fine dining experience in one of the finest Dublin Castle Hotels. Awarded two AA Rosettes for culinary excellence, it offers one of the best dining experiences outside City Centre Dublin. Choose from the Table d'Hote option or select a combination of food dishes from the a la carte menu.
Indigo Lounge
A more relaxed food service can be found in the Indigo Lounge. This is the ideal space for all occasions and family gatherings. Head Chef Paul Devoy is a native of Dublin City, working in some of the finest restaurants. 
Kinara
A unique food service experience in the heart of Clontarf overlooking Bull Island. The Pakistan flavours of this hearty grub ensure that you get a stunning meal while in Ireland. Be sure to book your table for a fine feast!
Pubs in Clontarf
Knights Bar
The Knights Bar in Clontarf Castle is the jewel in the crown of this extraordinary 12th century castle. Walk into a historically decorated tavern and feel like royalty as you sit on a warm leather banquette or the classic upholstered booths.
On a winter's night, sit in front of the roaring open fire and journey though the blend of contemporary sophistication & welcoming ambience.
Harry Byrnes
An architectural dream, with a red-bricked victorian exterior and a beautifully polished wooden interior, walking into Harry Byrnes is like nothing you've seen before. Made for visiting in the depths of the cold, dark winter or on the contrary, a beaming summer's day with a huge open fire along with a beer garden. 
This victorian era building has a plethora of different small areas, perfect for joining a group or having a romantic drink with your partner on your holiday. 
Connollys – The Sheds
The Sheds is home to one of Dublin's most loved pubs. Like many of the historic pubs in Dublin, Connollys has an exquisite interior. Gleaming stained glass mirrors, polished brass accents, and rich mahogany dividers impart a luxurious atmosphere.
The bar is often filled with groups of all kinds, young and old. Wether you are a local to Clontarf, or a visitor staying in Clontarf Castle Hotel, you are always welcome to the Sheds. 
FAQs about visiting Clontarf in Dublin
How to get to Clontarf Castle
We have created a guide on how to get to Clontarf Castle Hotel from Dublin Airport, Dublin Castle, Dublin City Centre and other places in Dublin. 
Should I visit Clontarf?
Of Course, Clontarf has a huge range of places to visit. From beaches, cafes, bars, historical sites, day trips and much more! 
What are the best things to do in Clontarf?
Our favourite way to spend an afternoon in Clontarf would be to sit and sip a coffee along the Clontarf Promenade, take a dip in the sea at Dollymount strand, have a bite to eat in one of the many restaurants before a "knight" cap in the Knights Bar. 
What are the best places to stay in Clontarf?
In Clontarf Castle! Check out the deals available for City Breaks to Dublin now! 

Luke McLeod
Luke is a seasoned travel writer, with years of experience around Europe, America and at home in Dublin.

If it's not discovering some of Clontarf's finest coffee shops, Luke can be found in the city centre tracing over historic steps of Irish history or chatting with some of his favourite artisan producers in the town.

Wether it's a pub for a quiet pint, a day trip from the capital or a dainty market to spend your Saturday morning, Luke's travel tips will ensure your stay at Clontarf Castle Hotel is a unique experience.