13 Irish Christmas Foods to try in 2023

| Last Updated: Thursday, 2 November 2023

Last Updated: Thursday, 2 November 2023
A Guide To Irish Christmas Foods
Christmas in Ireland is celebrated mainly on the 25th of December, but you can find plenty of treats around the dinner table before Santa Claus calls to the house. Wether it's a hot whiskey as the winter nights sets in, or breaking open a tin of biscuits as an unexpected visitor calls over!
The Christmas morning fry-up
As we begin Christmas celebrations, many households around the country will brave the Irish seas for the Christmas swim. An Irish breakfast is an everyday occurance for some people, and a must have when you stay in Clontarf Castle at Christmas. 

You will find Pork Sausages, Bacon Slices, Black & White Pudding, a Fried Egg, Tomatoes and Brown Soda bread on a traditional Irish Breakfast in most homes. Up north of the country, it would be common to find a potato farl instead of the soda bread. There are so many enjoyable aspects to the humble breakfast, each one playing their own part. 
Traditional Irish Christmas dinner
If the breakfast didn't fill you up, an Irish Christmas tradition is that dinner is usally served as a buffet lunch between 1pm to 4pm. The time varies from house to house but the dinner menu is quite similar in every home. 

An Irish home-cooked Christmas dinner usually has three courses, a light but hearty soup, a buffet style main course, and then a sweet pudding or slice of Christmas cake. The soup doesn't fair far from Potato and Leek or Country Vegetable. 

For the main buffet, there are a selection of Irish Christmas foods to choose from. A whole crown of Turkey and a glazed ham take the centre stage in most homes. Don't forget every type of potato you can think of, but we will cover all of that soon!

Ireland has two types of stuffing that is served around Christmas time. Herb bread stuffing is a rich breadcrumb mixture enhanced with Irish butter, onions and soft herbs like parsley and sage. This is stuffed inside the bird of choice, namely turkey. You can also find sausage stuffing on the table which is similar to meatloaf, which is more common to our American guests. 

Finally, the veggies! Irish Christmas traditional food includes lots of veg on your plate! If you are dining in an Irish house this holiday season, you may find any array of sides to your meal from roast root vegetables like Carrots and Parnsips to the favourite of Brussel Sprouts with Chestnuts and cherries! Don't forget a dollop of Cranberry sauce.
All the potatoes
Is this Irish Christmas Food or everyday food for Irish people you ask? Well, it's no surprise we pride ourselves on well thought out potato dishes. The humble roast potato is high up the list, as the great Irish cooks would place these in the roasting dish as the turkey is nearly done to get the incredible flavour from the dish. 
A must have Irish Christmas Food with the main event is mashed potatoes. At Clontarf Castle, our executive head chef Paul Devoy doesn't serve plain mash, but a world-class champ mash with the Christmas meal. Champ is a traditional dish, and it's not only served at Christmas. Chef Paul takes finely sliced spring onions and whips them into the creamy mashed potato. 
Spiced Beef
Roast Beef, Corned Beef, Spiced Beef any amounts of beef can be found in the southern region of county Cork. Traditionally an Irish Christmas Food, spiced beef has become popular through out the winter months in Ireland specifically in the Rebel county!
A cut of silverside beef is rubbed with curing salts, cinnamon, ground cloves, bay leaf, mustard seeds,  juniper berries and sugar and left to cure for up to three weeks. Once the cure has taken to the cut of meat it is then slowly boiled in hot water for around 5-7 hours, depending on your cut. The beef cooking liquor is discarded, unlike many other dishes where it would be used for gravy. You can find spiced beef for sale in many Irish stores around the festive period! 
An Irish Christmas traditional Irish dish is thinly sliced spiced beef on a piece of brown bread. It is then smothered in horseradish or apricot chutney and enjoyed with a festive tipple of your choice!
The Aftermath
Christmas day in an Irish house is a marathon, not a sprint! Feasting for the day really does mean all day. You've had your breakfast, soup and a full festive lunch… now let's move onto our sweet treats. 
Irish Christmas Cake
This traditional Irish Christmas Food definitely has it's roots in Ireland. This moist fruit cake mix is passed from grandmother to grandchild each generation. A dense cake batter is enriched with raisins, sultanas, candied peels and warm winter spices.
Once it is baked, you wrap it with foil and give it a drop of Irish Whiskey every 10 days or so. Feeding the Christmas Cake should be done around four times through out November and December and always give it a week to dry out before you start your icing. 
The decoration stage is where this Irish Christmas Food becomes a family affair. Taking out your dark fruit cake out of the foil about a week before the big day, it's time to work on the icing. Firstly, you will see that it is wrapped in marzipan before being covered in white royal icing. Finally, figurines of snowmen, Santa or angels are intricately placed onto the icing. 
Sherry Trifle
This alcohol-drenched sponge cake is a family favourite. When you are dining out in Ireland at Christmas, you tend to see Christmas Cake and Pudding on the menus. However it is rare to see a Sherry Trifle in the dessert sections, even though it is synonymous with Christmas Foods. 
The bottom cake layer, is made of lady fingers that have been soaked in sherry. This is then surrounded with a fruit jelly, and smothered with yellows Bird's custard. 
When the trifle is set, the top is decorated with sweetened whipped cream, glace cherries and crumbled chocolate flakes. It's a mess to eat, but that doesn't stop it from tasting as good as it looks. 
Christmas Pudding
One unmistakenly Irish food at Christmas, a slice of hot pudding lathered in brandy butter with a tipple of tawny port. This may seem very similar to Christmas Cake, but I promise it's not!
This traditional recipe is a mixture of candied cherries, grated apples, almonds and candied peel. Once mixed well, it is placed into a special pudding bowl, and steamed for hours. 
Serving a Christmas pudding is the fun part of a traditional Irish dinner. A tablespoon of brandy is poured over and set alight. This blue flame burns brightly as you make your entry to the dining room. 
Irish Christmas Foods & Treats
Festive food is very similar in lots of places all the world over, traditional Irish Christmas food can be seen through special recipes and personal preferences in how things are done. One thing that doesn't change are the sweets and treats we indulge in the lead up to the festive season. 
Boxes of Chocolates
Irish families gift boxes of chocolates to each other, with four main tubs to choose from. These individual wrapped chocolates are miniature versions of some well known bars like Crunchies, Mars and Snickers found in Heroes and Celebrations. 
However, some brands like Quality Street and Roses include special edition choccies that you can only find at Christmas time. This leads to plenty of disagreements over who gets the last one. 
Mince pies
Many children often wonder what you may have back in the day, why is it called mince pie if there is no mince in it? Historically, this Irish Christmas food had shredded meat inside. 
Nowadays, the mincemeat is made up with a mixture of apples, dried fruit, spices and beef suet. The filling is packed into bite-sized pastry cases and baked. 
After a meal in the festive season, the mince pies are served warmed with a heavy dusting of Icing sugar and a dollop of whipped cream.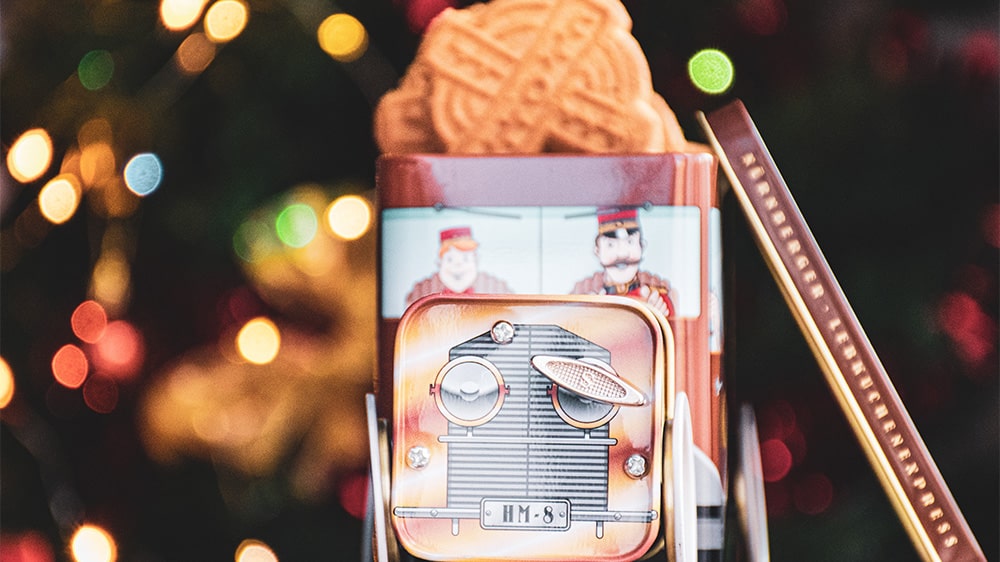 USA biscuit tins
When you think of traditional Irish Christmas foods, the USA tin is the first that springs to your mind. It's more than 105 years old, so it's certainly a traditional treat. 
Even with a name like USA, these biscuits don't come from our American friends. Rather they celebrated the arrival of American troops to Europe at the time of the great war.
It's packed with Pink Wafers, Bourbon Creams, Jammy Dodgers and a bunch of different chocolate cookies. The USA tin is heavily competed with the Jacob's afternoon tea, but for a festive snack the USA is the only winner. 
Some of you who have visited your granny may have been greeted with a big tin of USA biscuits only to find the inside is filled with shoe polish or a sewing kit. Much to the happiness of your 10 year old self! 
Traditional Irish Christmas Drinks
You will not be surprised to learn that in the Knights Bar, Guinness is served year round. However, Irish people do have some festive tipples that are enjoyed in the dark and cold winter months. 
Irish Coffee
A perfect ending to most meals is a cafetiere of coffee and a handful of sweet treats. Nevertheless, at Christmas, when you're catching up with family and old friends, a special ending is well deserved. 
Irish Coffee is a step above the usual offerings. Brown sugar is scorched with hot coffee and mixed together until smooth. A generous shot of Irish whiskey is added to the cup and thick cream is floated over the back of a spoon. Grate some nutmeg over the top of this hearty ending to any meal.
Whiskey can be replaced for another Irish drink named Baileys. This leaves a much creamer note to the drink. 
Hot Whiskey
Known fondly as the Hot Toddy around the country. This winter warmer is a mixture of hot water, cloves, lemon and Irish Whiskey. A little brown sugar can be added to sweeten the drink. 
Hot Toddys begin to be poured at the end of October, as the nights get darker and colder and you begin to feel that the festive magic is creeping into the town.
At the knights bar, we proudly pour some of the nation's favourite festive tipples alongside our excellent wines, cocktails and draft beers.
The Wrap Up
Irish Christmas Foods are packed with fresh fruits, luscious chocolates and sweet treats. That being said, our Christmas dinner is packed with casserole dishes filled with Roast Potatoes and Turkey Breast with bacon slices. 
You will be treated to an excellent meal every time you dine with us at Clontarf Castle. Book your stay today for the festive season and find out how our Christmas meals taste in a historic castle.  
FAQs about Christmas meal food in Ireland
What is served for the main course at an Irish Christmas dinner?
The main buffet includes a selection of Irish Christmas foods such as a whole crown of Turkey and a glazed ham. Don't forget every type of potato you can think of, and various vegetables too!
What type of vegetables are served with an Irish Christmas dinner?
You may find any array of sides to your meal from roast root vegetables like Carrots and Parnsips to the favourite of Brussel Sprouts with Chestnuts and cherries! 
What is spiced beef?
Spiced beef is a traditional dish from Cork, Ireland that is made with a cut of silverside beef which has been cured with curing salts, cinnamon, ground cloves, bay leaf, mustard seeds, juniper berries and sugar and then slowly boiled in hot water for around 5-7 hours. Spiced beef is usually served sliced on brown bread with horseradish or apricot chutney.
What is an Irish coffee?
A4. Irish coffee is a special ending to a meal. It is made by mixing brown sugar and hot coffee together until smooth, with a generous shot of Irish whiskey, and a dollop of thick cream floated over the back of a spoon.
What is hot whiskey?
Hot whiskey is a winter warmer made of hot water, cloves, lemon, and Irish whiskey. It is also sometimes referred to as a Hot Toddy. A little brown sugar can be added to sweeten the drink.

Luke McLeod
Luke is a seasoned travel writer, with years of experience around Europe, America and at home in Dublin.

If it's not discovering some of Clontarf's finest coffee shops, Luke can be found in the city centre tracing over historic steps of Irish history or chatting with some of his favourite artisan producers in the town.

Wether it's a pub for a quiet pint, a day trip from the capital or a dainty market to spend your Saturday morning, Luke's travel tips will ensure your stay at Clontarf Castle Hotel is a unique experience.