Bram Stoker Festival 2023

| Last Updated: Thursday, 2 November 2023

Last Updated: Thursday, 2 November 2023
The Bram Stoker Festival returns to Dublin in October 2023. A four day and night festival filled with deadly adventures and dark treats around Dublin's spooky streets. The festival runs over the course of the October Bank Holiday Weekend from Friday 27th until Monday 30th of October. The festival is supported by Dublin City Council who help bring Dublin's vampires back to life!
Bram Stoker is one Ireland's most treasured authors. Born just 2km from Clontarf Castle, in 15 Marino Crescent, the Stoker family have a long history in our town. Bram's wife Florence also is a Clontarf local, living just a couple of doors down from the Stoker home in number 1. Famously, Bram could not walk or stand until he was seven, however made such a recovery that he was a star athlete in Trinity College.
Upon graduating from Trinity, Bram Stoker worked in Dublin Castle for 10 years. During his time as a civil servant, Bram would also write an opinion piece of different drams productions in the city for the Dublin Evening Mail. It was in these pieces that he and Henry Irving first crossed paths. Henry Irving invited Stoker to manage the Lyceum Theatre in London. Through this partnership he was able to get involved with London's high society.
Of the 55 works that were published from his first, "Crystal Cup" in 1872 until his last a posthumously published "Miss Betty" in 2015, Dracula is the most well-known story. Dracula was first published in 1897 and tells a unique story through letters, diary entries and newspaper articles. Dracula is widely regarded as the most famous piece of literature written in English.
Dublin City loves to celebrate our cultural heritage, and the Bram Stoker Festival is a prime example of the literary roots of our city. The festival returns for its tenth year since launching in 2011. Celebrating the legacy of the author, the festival takes over parks, libraries, stages and even nightclubs. Drawing inspiration from the Gothic, supernatural, and Victorian era
Highlights of the Bram Stoker Festival 2023
Dublin City Council's Bram Stoker Festival 2022 brought the spooktacular to Dublin Castle's upper courtyard. The Irish premiere of Borealis, an installation by a Swiss Artist, envisioned the otherworldly atmosphere of the Aurora Borealis, commonly known as the Northern Lights, in the skies above us.

Tours of the haunted marsh's library allowed people the chance to tour Ireland's haunted public library, where Bram used to read as a teenager. While in Collins Barracks, Dr. Jason McElligott focused on Stoker's interest in Home Rule of Ireland in the 1880s.

Stokerland returns to the Bram Stoker Festival 2023. The Victorian market is a free event for all the family. Each day at Stokerland is different to the last, with new activities taking place each day. At this year's market you can expect to see song, dance, street theatrical terrors, workshops, magic, and circus. Do not forget, Fancy Dress is Encouraged. The Market runs over three days in St. Patricks Park from 11am.
The Revenant is a critically acclaimed production and winner of the Best Production award as well as many nominations. Revenant is a frightening theatrical show that blends the reality using elements of horror and suspense. This showing is over four nights, and tickets must be booked by the bravest souls!
Much like Dracula and its author, the Bram Stoker Festival Parade is the magnum opus of the organisers. The parade is a visual storytelling of the story of La Loba. The wolf woman wanders the worlds collecting bones and them. A talent which is in danger of being lost to the world. The parade runs on the final night of the festival and the route will be published in time.
The programme of events is live now on the festival website. While these are some events that take our fancy, there are free, paid, family, adult and much more on over the weekend. You can find out the full programme of events on bramstokerfestival.com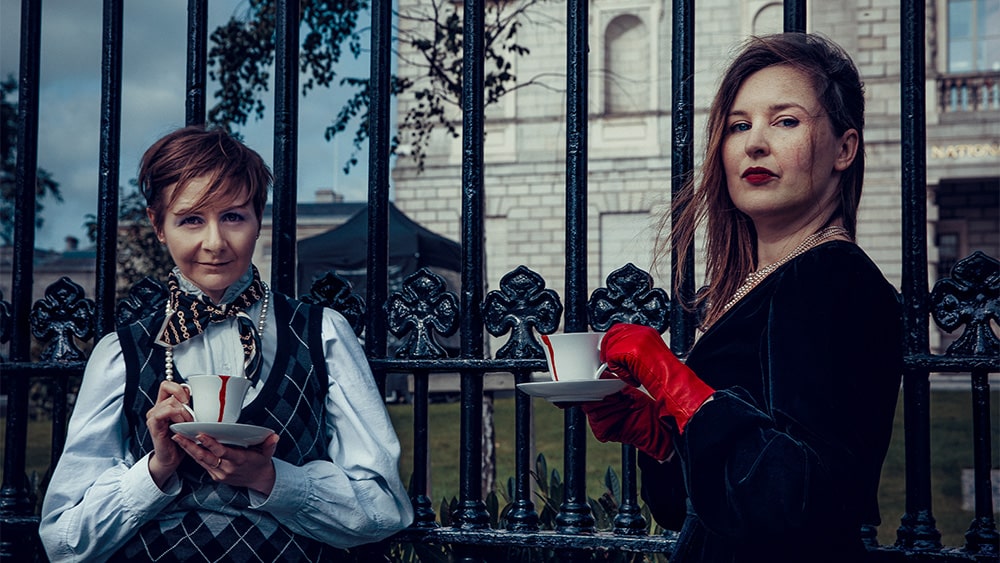 The History of Clontarf Castle
In our humble history, the Castle has been shaped by many famous figures. From Brian Boru to the Vernon family and George Frideric Handel's masterpiece "Messiah."
However, just a short walk away from Clontarf Castle Hotel sits an elegant townhouse with a bright red door.
It was inside 15 The Crescent that a child's imagination began to swirl around dark and eerie Gothic tales, learned at bedtime by his mother's rocking chair. Born in 1847 and author of Dracula, Bram Stoker remains one of the most famous Clontarf residents in history today.
If you follow Castle Avenue to the Coast and continue on Clontarf Road, you will soon come to a park near the Crescent. Bram Stoker Park is a small green space outside the former residence of Bram Stoker. The wall and tree surrounding creates a private feel to Bram Stoker Park, ideal for sitting in the winter sun and reading your favourite novel.
When you return from the park why not enjoy the Bram-Ble at the Knights Bar. Our bar team have created a special cocktail to remember the link of Bram and Clontarf. The Bram-ble is our take on the classic gin cocktail and it is sure to settle you in to your stay.
Spooky Stays at a Scarily Good Price
Stay in one of Ireland's favourite Castle Hotels and enjoy a relaxing break to the capital. Discover Dublin at your own pace, roam around the spooky streets and Victorian fairs of the festival and return the birthplace of Author Bram Stoker.
The Discover Dublin Package includes a meal in the 2 AA Rosette restaurant Fahrenheit or the historic Knights bar. A stay in one of the beautifully furnished rooms with a 55" Tv, Fast Wi-Fi, Walk in Rain Shower, and a whole lot more. After a refreshing sleep on our pillow top mattress, join us for complimentary breakfast in our restaurant. 
The Wrap Up
Bram Stoker was a legend of Clontarf, Dublin Castle, and Trinity College. That is obvious with the celebration of Bram Stoker Festival 2023. At Clontarf Castle, we are celebrating our historical ties to the author with our Bram-ble cocktail in the Knights Bar.
Dublin City Centre will celebrate four days of living stories, with a packed programme of fun for kids, teens, adults, resident vampires, grand parents and much more. These horror tinged events are sure to be enjoyable in October. 
Plan your visit to Clontarf Castle for Bram Stoker Festival 2023 and witness the spooks and thrills of the Castle this Halloween. The festival runs from Friday the 27th until Monday the 30th and is sure to be an incredible weekend to stay in Dublin.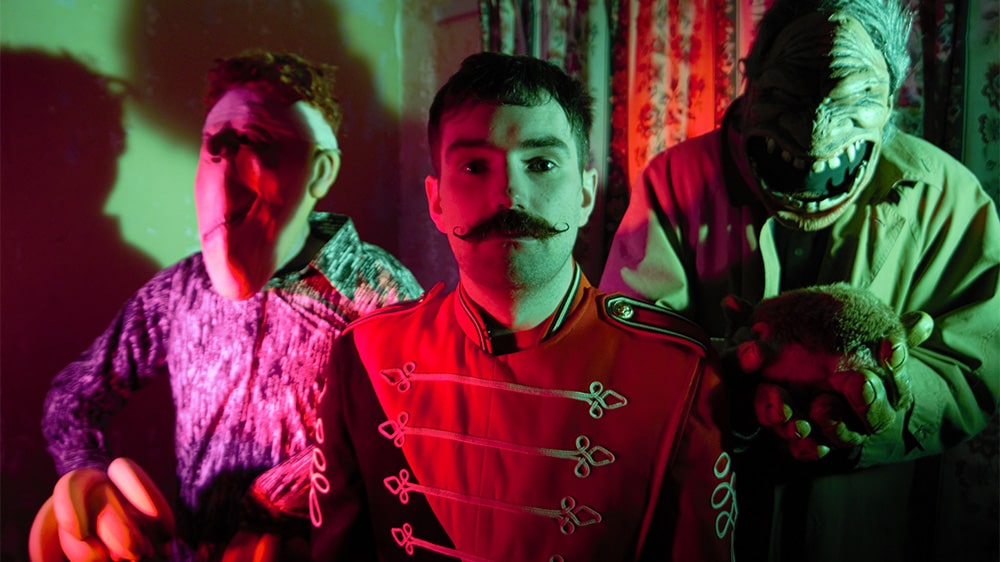 FAQ's About Bram Stoker Festival
Q. When is the Bram Stoker Festival 2023?
The Bram Stoker Festival Dates are from Friday 27th until Monday 30th of October in 2023.
Q. What can visitors expect to find at the Bram Stoker Festival 2023?
Visitors to the Bram Stoker Festival 2023 can expect to see spooky adventures, Victorian markets, haunted library tours, theatrical shows, and activities for the entire family.
Q. What's Happening at Dublin Castle Halloween Event?
Dacre Stoker, great grandnephew of Bram Stoker, is hosting an interactive literary workshop to explore key documents used to write Dracula.

Luke McLeod
Luke is a seasoned travel writer, with years of experience around Europe, America and at home in Dublin.

If it's not discovering some of Clontarf's finest coffee shops, Luke can be found in the city centre tracing over historic steps of Irish history or chatting with some of his favourite artisan producers in the town.

Wether it's a pub for a quiet pint, a day trip from the capital or a dainty market to spend your Saturday morning, Luke's travel tips will ensure your stay at Clontarf Castle Hotel is a unique experience.