Stay and Play at one of the Fabulous Clontarf Golf Courses

| Last Updated: Tuesday, 21 November 2023

Last Updated: Tuesday, 21 November 2023
Clontarf is packed with things to do, from a stroll along the prom, to a dip in Dollymount. However, Dublin is also a central location from which to take on more than 300 golf courses spread across Ireland, with some of the most beautiful links in the world.

Whether you're eyeing up a spot in the next Ryder Cup team, or you're an unwitting golfer playing one of your first rounds, Clontarf has a course made for everybody. What you can be sure of, relaxed golfers love to play on these speedy greens before their return to the Knights Bar for a well earned meal.
Clontarf Golf Club
3.1 km | 8 Minutes

The Closest to our hotel, Clontarf Golf Club is just a 8 minutes drive from Clontarf Castle. Home to a long history of successful golfers from winning the All Ireland ladies fourball to club championships.

Dating back to 1912, Clontarf Golf Club is one of the oldest golf clubs in the Dublin area. The parkland course has manicured rolling fairways, a liberal sprinkling of old trees and quick greens. Although a relatively short course, its narrow fairways and punitive rough call for accuracy off the tee.

Clontarf Golf Club's signature hole is No. 12 in which you have to place your drive on a plateau, then fire down to the bunker-surrounded green over two ponds. The Quarry hole is a name fondly given by locals, who say that you haven't played golf until you've played the quarry.
Royal Dublin Golf Club
3.2 km | 10 Minutes

Originally designed by Harry Colt, Royal Dublin is the second oldest golf club in Ireland and displays its heritage perfectly to this day. This coastal course is relatively flat for a links course but is by no means easy.

Your club selection at this course is very important. With harsh climate and often windy conditions make a round very difficult but enjoyable to play. The Royal Dublin is a very popular course for our American Guests to play, and was once host to President Clinton for a round on one of his visits to Ireland.
St. Anne's Golf Club
6.0 km | 13 Minutes

This spectacular 18-hole course, is one of only 53 links courses in Ireland, sitting on the UNESCO Wildlife Sanctuary of Bull Island. The unique setting of this famous old links with the splendid panoramic views of Howth Head and across Dublin Bay to the Wicklow mountains ensures a most relaxing and enjoyable game.

This Par 71 was designed by Eddie Hackett, before a further redesign by Eddie Connaughton to it's present state. The redesign incorporated a very unique aspect of Irish culture, the turf of Croke Park was used in the ground. You will not find a more Irish experience on your holiday than playing here!
Howth Golf Club
10.1 km | 20 Minutes

Howth Golf Club is situated in one of the most idyllic and unique settings amidst the Hill of Howth. Howth Golf Course offers spectacular views over Dublin Bay, South towards Wicklow and North over the islands of Ireland's Eye and Lambay. Howth is a true Heathland Links Course, offering a thrill-a-minute golf on holes that go up, down and across tumbling terrain.

Howth Golf Club was designed back in 1916 by 5 time open winner James Braid. Commonly known as the "inventor" of the dogs leg. There is an exceptional example of this on the fifth hole. Those visiting Clontarf Castle for a Golf Holiday to Ireland must experience a round at Howth.
Sutton Golf Club
8.8 km | 20 Minutes

Voted Ireland's Best 9 Hole Course 2020 by The Golfers Guide to Ireland, this golf course on the Cush peninsula is a superbly maintained links course, and a challenge to test even the best of games.

Located North of Clontarf, Sutton is home to the late J. B. Carr who has won over 40 championships and made 16 hole in ones! The pavilion has come a long way since his day but there is a special room in his honour. You will definitely want to have a look in there on your visit.
Deer Park Golf
11.0 km | 25 Minutes

Deer Park Golf is situated in the picturesque peninsula of Howth, a fishing village north of Dublin city. Set against the magnificent back drop of Howth Castle, and famed for the stunning views of Dublin City, the North Dublin Coastline and beyond.

This beautiful estate includes 2 traditional golf courses: the Deer Park 18-hole and St Fintan's 9-hole, and the highly challenging 18-hole Pitch & Putt course.
Malahide Golf Club
10.7 km | 25 Minutes

Located just outside the picturesque village of Malahide in North County Dublin, this is one of the oldest Golf Clubs in Ireland and in 2017, the club celebrated its 125 year. This is a 27 hole parkland golf course and since its foundation has played a major role in the development of Irish Golf.
Portmarnock Golf and Country Club
11.1 km | 30 Minutes

Located along the picturesque coastline of Portmarnock, this Golf Club is considered one of the most respected venues for world golf. It has played host to the likes of the Walker Cup, the Canada Cup and has also no less than 19 staging's of the European Tour's Irish Open Championship. It is considered one of the fairest links in the world.

Portmarnock Links is hugely popular for touring players and attracts stars to the fairways each day. This famous club insists that visitors must hold a certified handicap to play.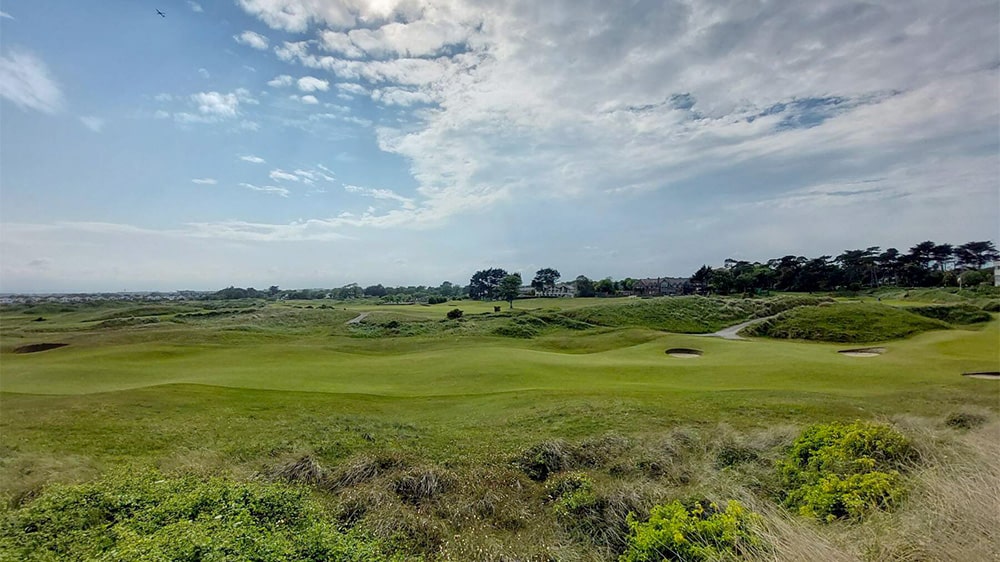 Clontarf Castle Golf Society 
The Knights Bar is home to a Golf Society named after the very place it sits, Clontarf Castle. Formed in 1988, the group of enthusiastic golfers and friends play in some brilliant courses.

The winning silverware of the society is on display in the bar. The Clontarf Castle Golf Society plaque hangs proudly by it.

While the Clontarf Castle Golf Society is based in our hotel, they have members form all over the world. New members can join the society by contacting them directly.
Dollymount Ladies Golf Society
Also based in our stunning hotel is the Dollymount Ladies Golf Society. The society was founded in 1991 and has a brilliant collection of over 100 players. Each month the ladies meet to play 9 hole course in Deer Park and regularly come to dine after in Clontarf Castle.

There is also a regular coffee social held in the Castle on the last Friday of each month. The captain awards their prizes for the month and arranges plans for the next outings and fixtures.
The Wrap Up
Whether you're a novice or an experienced golfer, Clontarf has a selection of golf courses to suit all levels. From Royal Dublin Golf Club to Portmarnock Golf and Country Club, there is something for everyone in the area. So why not come and stay at one of the fabulous Clontarf golf courses and experience some of the best golfing in Ireland!

Clontarf Castle has a strong relationship with our golf societies and the surrounding courses. Please ask our front desk team for any information you need regarding playing golf on your trip to Ireland.
FAQ's about Golf in Clontarf
Is there any assistance from Clontarf Castle for golf related information?

Yes, Clontarf Castle has a strong relationship with our golf societies and the surrounding courses. Please ask our front desk team for any information you need regarding playing golf on your trip to Ireland.

Are there any special offers for golfers staying at Clontarf Castle?
Yes, Clontarf Castle offers special offers and packages for those who are staying at our hotel. You can find out best deals on stays in Ireland here.
Is there an ideal golf course for novices in Clontarf?

Yes, Clontarf has a selection of golf courses to suit all levels, including courses for novices. Those who may struggle will find that Deer Park has a number of courses ranging from a full 18 hole course to a pitch and putt course to choose from.

Luke McLeod
Luke is a seasoned travel writer, with years of experience around Europe, America and at home in Dublin.

If it's not discovering some of Clontarf's finest coffee shops, Luke can be found in the city centre tracing over historic steps of Irish history or chatting with some of his favourite artisan producers in the town.

Wether it's a pub for a quiet pint, a day trip from the capital or a dainty market to spend your Saturday morning, Luke's travel tips will ensure your stay at Clontarf Castle Hotel is a unique experience.